Date of visit: 31 July 2010 – note menu items may no longer be available and those that are may have changed.
Number 8 is Crown's own modern Australian restaurant situated within the Crown casino complex just by the riverside. There are quite a few restaurants in the area. A very lovely place to sit out on sunny days for long lunches. So last year (yes, I know, I am so behind), Maya, Josh and I went out for our catch up long lunch on a very lovely sunny Winter day.
(Complimentary bread with dips – unimpressive)
Number 8 was recommended to me by a couple of colleagues who had had a few business lunches there. We decided to give their lunch specials a go because, as I previously mentioned, Winter is all about long lunches. I believe at the time it was $65 for a three-course lunch including three side dishes. Currently, Number 8 lunch specials sits at $68 for two courses (including side dishes) and a glass of wine according to its website.
(Maya's entree: quail and rocket salad with a slice of foie gras?)
We each ordered an entree, a main and dessert as well as three side dishes. Believe me it was a lot of food! Pictured above was Maya's entree of quail salad. I can't remember a lot of this dish at all even though I did have a taste. Don't you love friends who don't mind sharing food? The only thing I remember about it was the foie gras which came as a tiny almost dried sliver rather than a buttery, silky chunk of foie gras I expected.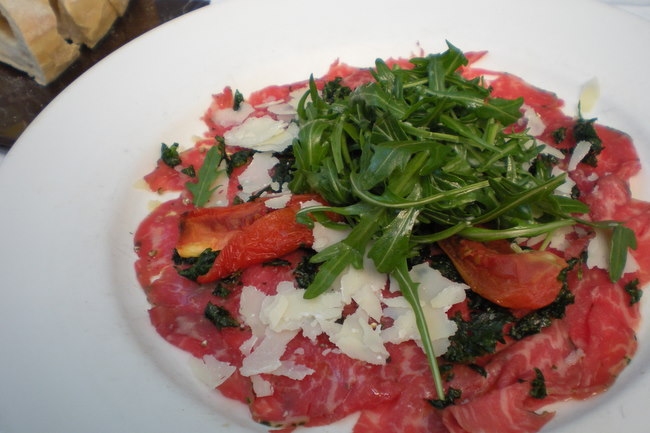 (my entree: wagyu Carpaccio  with wild rocket, semi-dried tomato, truffle oil and crisp parsley)
My dish, on the other hand, I remember quite well. A friend, Jean, had strongly recommended this dish as the Number 8 dish to try. I was hesitant because I was pregnant at the time and wasn't supposed to eat undercooked meat, let alone raw. But decided that the risk was minimal and went for it anyway. I have to say though, unfortunately, I didn't like it as much as Jean did. There was something not quite right about the way everything came together – it didn't blow my mind. It wasn't a bad dish though. The meat was thinly sliced and the fat melted on your tongue. That was rather good but I found the flavours lacking.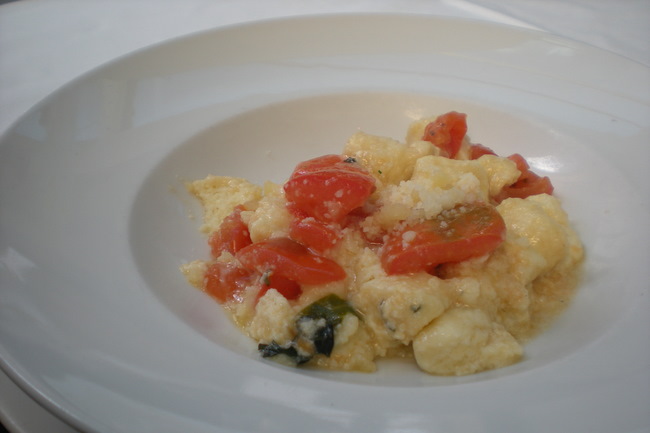 (Josh's entree: ricotta gnocchi with fresh tomatoes)
Josh's ricotta gnocchi, on the other hand, was excellent. The gnocchi was light and fluffy with the fresh tomato sauce perfectly suited. I was having serious food envy by this stage. Unfortunately, he wasn't interested in trading his gnocchi for my carpaccio.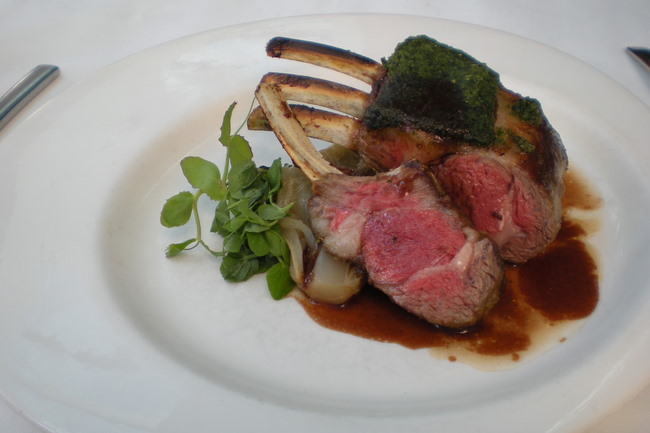 (Rack of lamb with herbed crust?)
For main, Maya had ordered the rack of lamb with herb crust. She was warned that it would be served medium rare and whether she was okay with it. She was. And it was good. The meat quality good and it was treated perfectly. Unfortunately, I can't remember much about the accompanying sauce.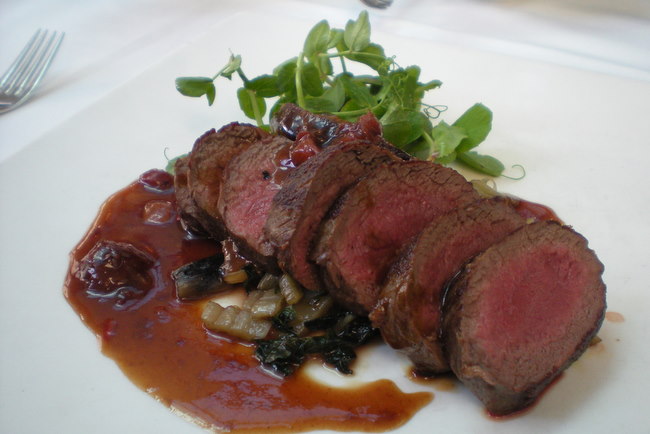 (Venison loin fillet)
Same was the case for Josh's venison fillet. It was also perfectly cooked and the meat was tender and flavourful and he enjoyed it immensely. Again, I can't remember much about the accompanying sauce. It was the meat that stole the show. There seems to be a running theme through all the Crown restaurants that I notice – and that theme is meat.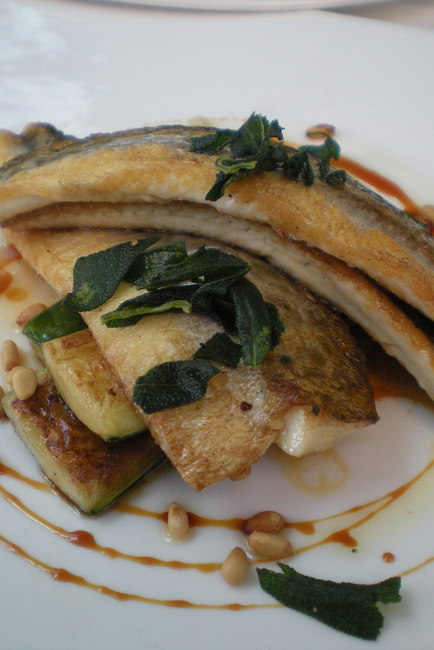 (King George whiting with grilled zucchnini sage and pinenuts)
Because the other two had had big wins with their main dish, someone had to be unlucky and got the dud one. Yep. That was me. Because I really am not a big meat eater, I decided to go for the fish option of King George whiting with grilled zucchini, sage and pinenuts. Let's not mince words: it was terrible. The quality of the fish itself was decent albeit bland and underseasoned. The zucchini was incredibly bitter and it would have been the deal breaker if it wasn't for the even more horrible component of the dish, the sauce. While I could not recall what Maya and Josh had as sauces for theirs, I remember the swirls of thick sauce to be kecap manis. Just kecap manis. Nothing else. I could be wrong. But that's what it tasted like. Suffice to say, I didn't enjoy my dish.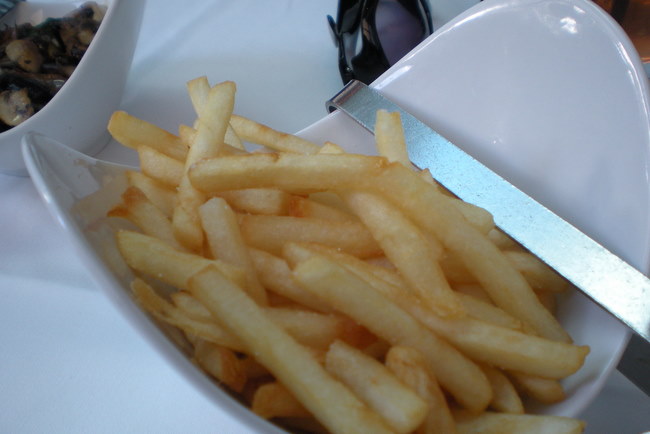 (French fries)
As a part of the lunch special, each of us could order a side dish with our main meal. I love the idea of side dishes. I love that you can just take a few simple ingredients and make them memorable. Unfortunately, Maya insisted on the French fries. Not that I had anything against French fries. Thing about French fries is they are utterly boring. Anyway, these French fries were okay. Maya did say McDonald's were better. That gave me the excuse to ride her hard about ordering French fries at nice restaurants and how the Kipfler potato with garlic and rosemary would have been a much better choice.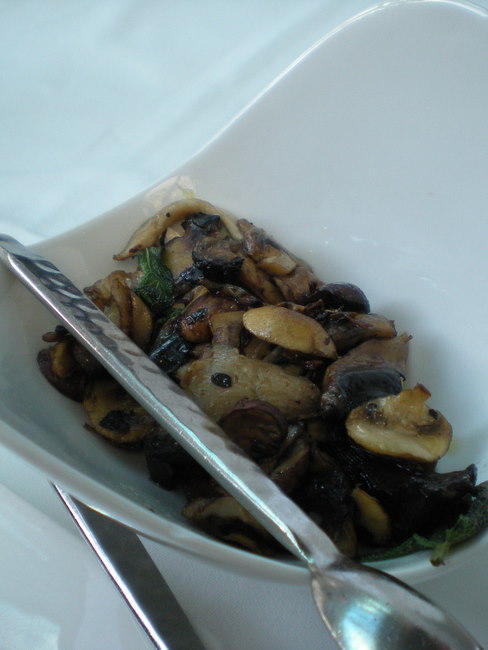 (Side of mushrooms)
Josh and I made a joint decision for sauteed mixed mushrooms. Because we love mushrooms. HOW CAN YOU NOT LOVE MUSHROOMS? I die a little inside everytime someone says, 'I don't eat mushrooms.' I even once had a vegetarian colleague who didn't eat mushrooms because she didn't think they're vegetarian. Hmm'kay. Anyway these mushrooms were decent albeit slightly oily.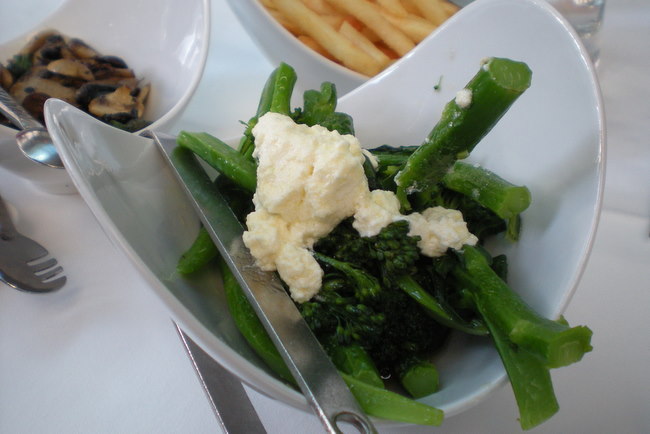 (Steamed broccolini)
I also asked for a side of broccolini because at the time, after having had the broccolini at Lento, I was obsessed about broccolini. The broccolini were steamed, dressed with soft cheese (can't remember exactly what it was). I remember it to be slightly bland but that's where the memory ends.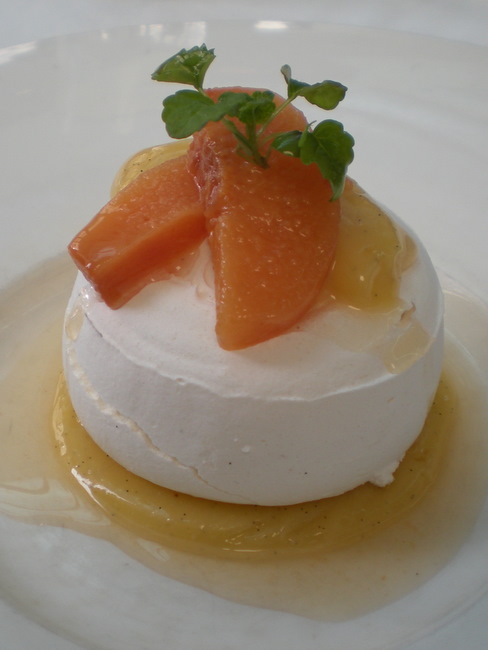 (Passionfruit pavlova?)
Naturally, we all went for desserts. Josh went for the tangy passionfruity? meringue dessert. I remember that this was just the type of dessert he loves and that he enjoyed it immensely. So Josh had had three very big wins with his entree, main and dessert. He was the lucky one. Unfortunately, in the food department, his memory isn't as good as mine and I didn't pay enough attention to his dessert only that I didn't enjoy it as much as he did and it's not something I'd normally order.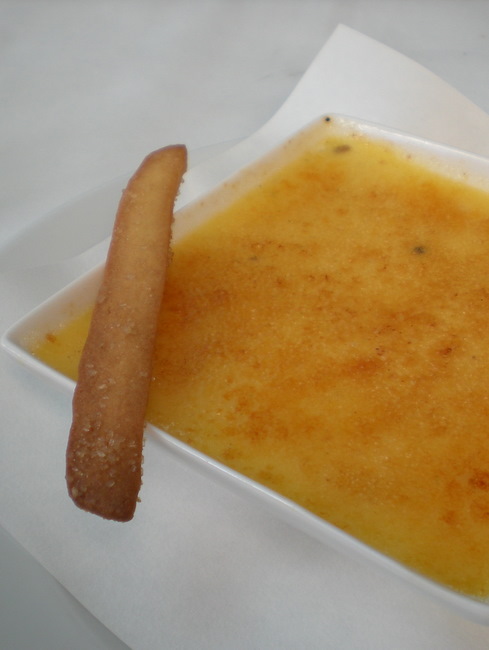 If Josh was the lucky one, then I was the unlucky one. Yet again, my dessert was the dud one. The vanilla creme brulee was unremarkable. The dish wasn't heated through properly and the custard was still slightly cold in the middle which contributed to the texture being not quite right. The only impressive thing about it was the size. It was massive. But after two courses, I wasn't looking for massive. I was looking for lovely.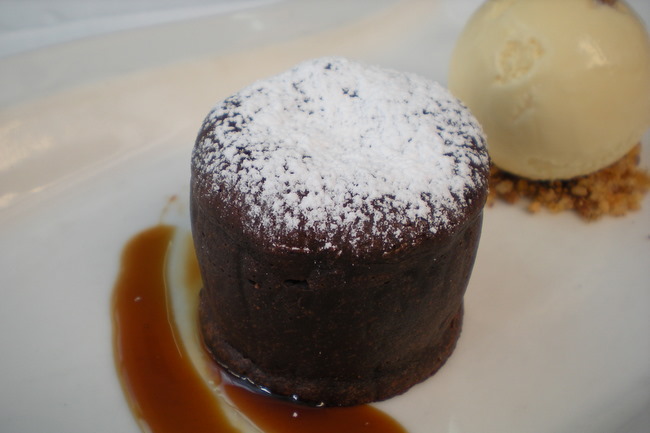 Maya's dessert, chocolate fondant with ice cream, on the other hand, was gorgeous. Rich, warm and velvety chocolate fondant. It was served with ice cream and hazelnut brittle type thing. So good.
So good, in fact, I have a few more photos for you.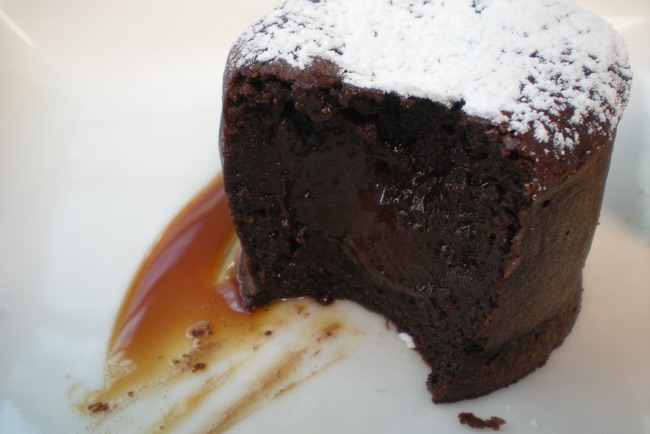 Phew! Yes, that was a very large meal for all of us. I don't think any of us had dinner that day.
All in all, we had a lovely lunch – of course the fact that it was a gorgeous day didn't hurt. The service was friendly and impeccable as to be expected. The food was a bit of a hit and miss which was slightly disappointing (mostly for me for picking duds) but overall the lunch special we had was extremely good value. Though I can't help but thinking that if I were paying the full price, I would be a lot more disappointed.
Number 8 Restaurant and Wine Bar [ Website ]
Address: Crown Casino Complex, 8 Whiteman St., Southbank 3006 VIC
Phone: 03 9292 7899