The very first time I visited Sydney, I absolutely fell in love with Sydney's Thai food scene. So when I hear chatters about a great Northeastern style food 'beer garden' from my foodie friends, I knew I had to pay a visit. I promptly made plans with friends and fellow blogger, Penny and her Mister, who had migrated from Melbourne to Sydney. I can't blame them. The weather, not to mention Thai food, is much better!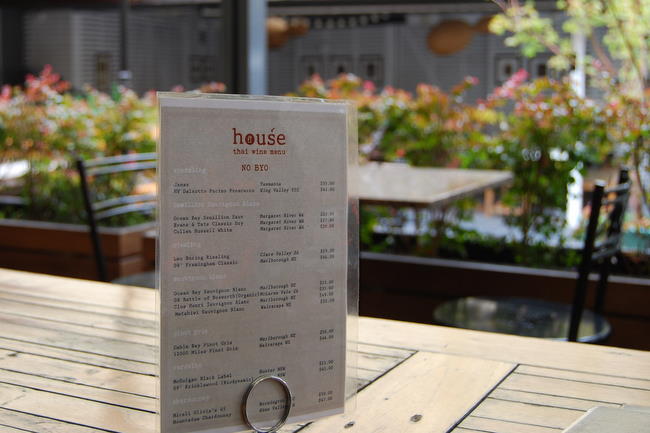 (House drinks menu from the bar next door)
Penny has warned me that it is a popular place and some queuing may be required. Now personally, I am against queuing. There is never a need to queue for decent food. Yes, I understand that there are places out there where food is truly amazing and I'm missing out on them by refusing to queue. I can understand that. But I am personally of the opinion that not taking reservations equals bad service and as a diner, you weigh up carefully the value of this tarnish against service with its food, price and service on the day and often I find that it really is not worth it. But Sydney-siders seem to not mind, so when in Rome… (or rather, Sydney)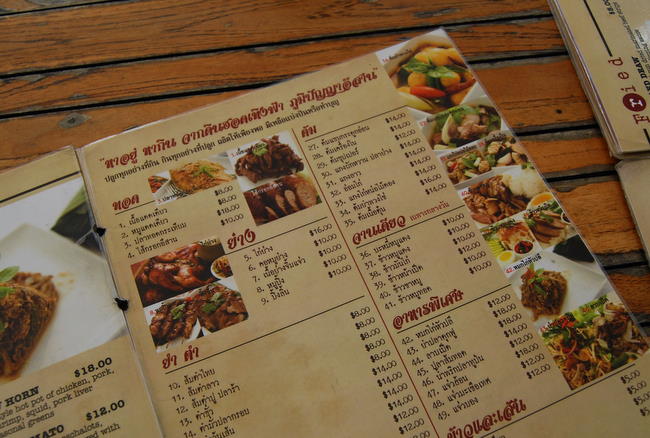 (A part of the menu read, 'grow everything you eat, eat everything you grow and share the surplus' – a very 'in' sentiment in the foodie circle)
Luckily, we settled to meet around 2pm on a rainy Saturday afternoon. As luck would have it, we were the only customers there. As the weather was fabulous (by Melbourne standard, that is), we opted to sit outside. A strange drink arrangement whereby drinks had to be ordered at the bar next door was given a miss even though House's Northeastern food style lends itself perfectly to a pot of nice, cold beer. I was desperate to save stomach room for Momofuku Seiobo that night.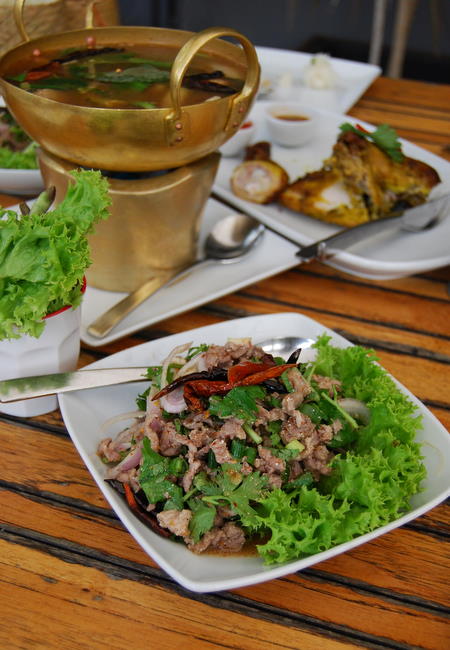 House's menu consist of a typical Bangkokian interpretation of Isaan (Northeastern) food i.e. if you are actually from Isaan (I am not) you will probably be disappointed with the menu (I am not). With a lunch-only section of the non-Isaan rice and noodle dishes, it does cater for the more mainstream crowd as well. All the bases are covered.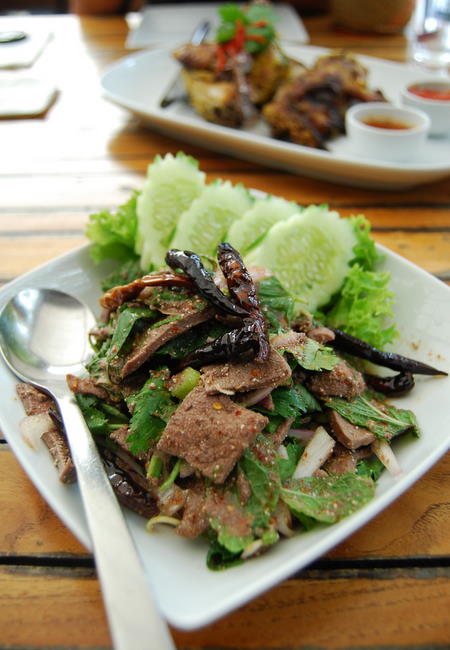 (Pork liver salad – $12.00)
After a perusal of the menu, Penny had insisted on the pork liver salad known a little bit more poetically in Thai as 'sweet liver' – it is basically a larb made with blanched pieces of pork liver topped with deep fried dried chillies. A dish I normally love but I didn't want to order because I really wanted the larb ped (below) and they are basically the same dish with different meat. While the flavour of this dish was lovely and it had a perfect balance of herbs and liver, I find that the liver is  a touch overcooked. But I can't imagine that half-cooked, bloody and rare liver pieces will sell well in Australia, so I suppose this can be forgiven.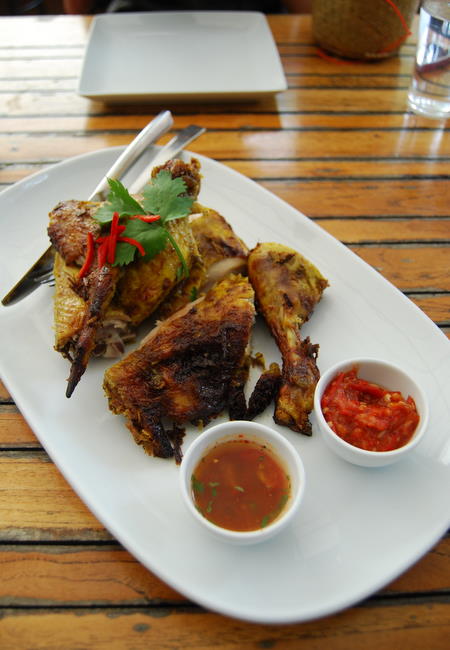 (Gai yang – marinated, char-grilled chicken with jaew dipping sauce – $16.00)
Penny's Mister (that's what she calls him on her blog, by the way) had wanted gai yang,  Thai style barbecued chicken – pieces of marinated and grilled chicken most favoured in roadside stalls in Thailand. The chicken was served with Northeastern style dipping sauce and tomato relish. I found this dish to be a bit disappointing. The barbecued chicken lacked flavours and the marinade didn't shine through like it normally should be. The jaew dipping sauce (pictured on the left) lacked the punch and was somewhat watery but I rather liked the tomato relish (right) although it wasn't as spicy as I wanted it to be.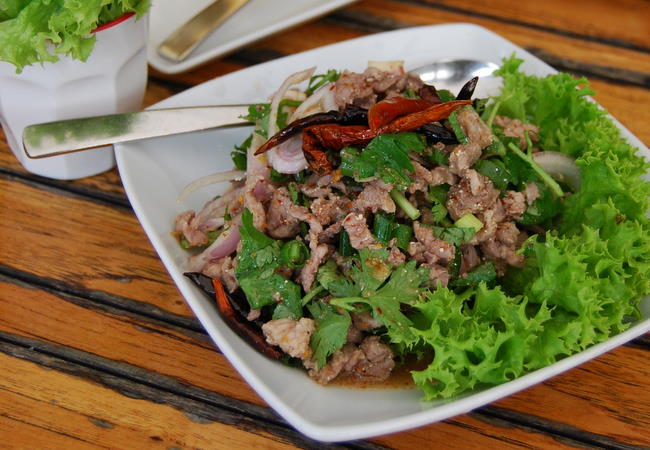 (Larb ped – traditional Isaan minced duck salad – $18.00)
The dish I had my eye on was the larb ped – spicy minced duck salad. I have to admit it's a very cliche Northeastern dish for a Bangkokian like me but let's face it, this is one of those benchmark dishes that you have to try. The flavours were quite similar to the liver salad – that is a good balance of spicy, sour and salty (not sweet! Thank god). What made it really good was the combination of minced duck meat and toothsome  giblets with crispy bits of duck skin. While it was not as spicy as I had hoped it be, I think this translates to good news for those who aren't chilli-mad, or Thai.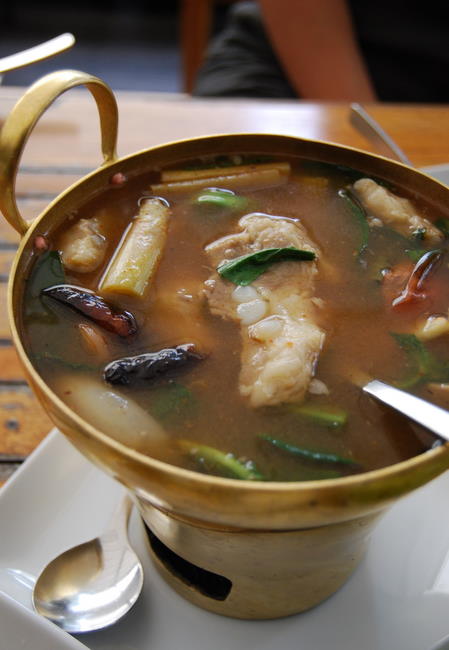 (Tom sap kraduk orn – soft rib soup $14.00)
The star of the show was undoubtedly the tom sap of 'soft rib.' A term that may need explanation since this is simply not a part favoured in this country. It is basically the end part of the ribs where soft, fatty meat surrounds the soft cartilage (which you are supposed to eat, by the way). I reckon it's the best bit of a pig. The soup was spicy and zingy with generous amount of various herbs, lemongrass, kaffirlime, sawtooth coriander, galangal and shallots thrown in. So flavourful and lots of oomph, it will make you sweat. Definitely the recommended dish here. If there is a dish that lulls me back there, this is it.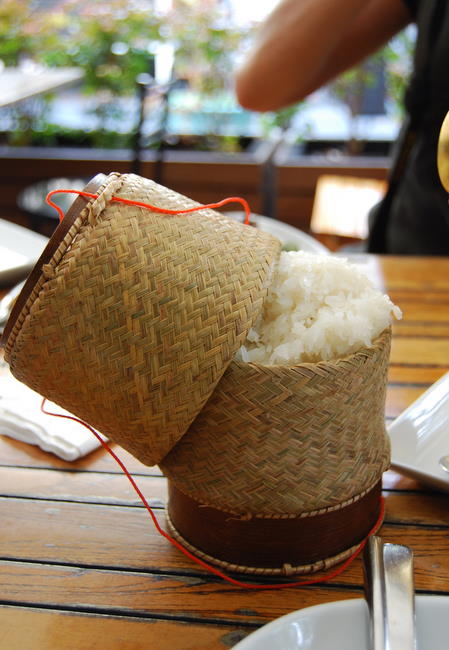 (Sticky rice – $3.00)
To accompany all the dishes in a true Northeastern style, we ordered sticky rice. I had specifically asked for one person's serve but the serving was extremely generous. Sticky rice, you will find out, is much more filling than normal rice. It was served in a gratib – a traditional Isaan rice container. Very cute.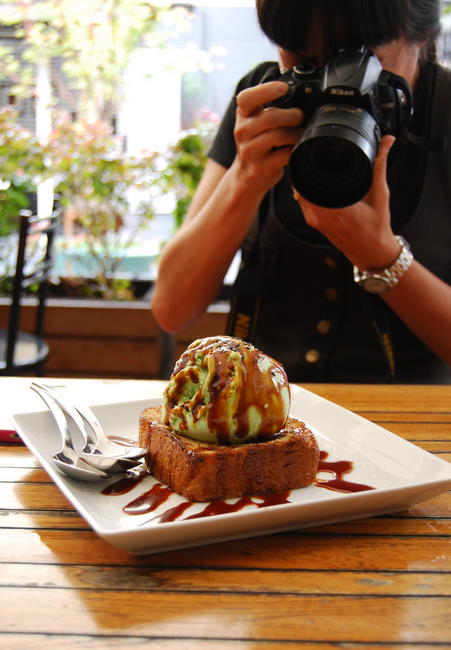 (BTS – toasted brioche topped with pandan ice cream and coconut 'caramel' sauce – $15.00)
We finished with House's famous dessert BTS (apparently short for 'better than sex') because it came highly recommended. Thickcut, buttery brioche was topped with smooth pandan ice cream, drizzled with dark coconut milk and coconut sugar 'caramel' topped with black and white sesame seeds. The brioche was perfectly toasted and the caramel sauce was rich and dark. It was a very lovely dessert and I can see why a few people rather liked it but I found it rather out of place and a unnecessarily heavy finish to an Isaan menu. Interestingly, I had a similar dessert at Jamie's Italian (brioche con gelato) and I have to concede that BTS wins hands down. However if you ask the all important question: 'is it better than sex?' – my answer will be it depends on what kind of sex you've been having.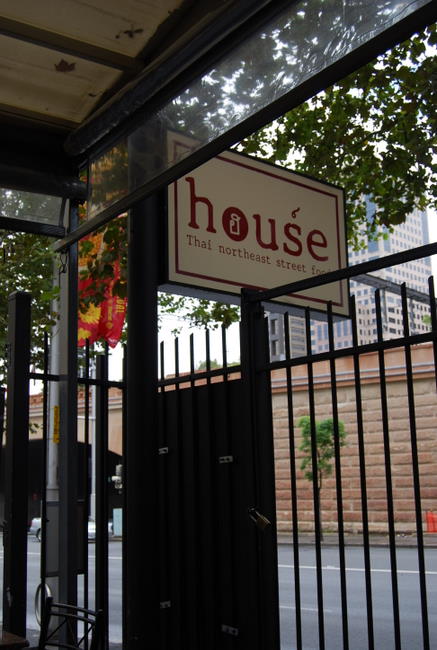 Overall, House presented a very pleasant introduction to a regional Thai cuisine that is so severely lacking in Australia. However being a tourist in Sydney and having explored Campbell St., I couldn't help but wonder if there are other places around that are just as good and authentic, if not better.
House Thai Northeastern Street Food [ Website ]
Address: 202 Elizabeth St. Surry Hills NSW 2010
Phone: 02 9280 0364
Hours: Open 7 days, 11.30 AM. – Late